The Best Zombie Cocktail Recipe is a thing of beauty. A mixture of Rum, some more rum, some fruit juice, a few exotic syrups and some more rum…. this drink stands in a class all its own.
Invented by Don Beach for his restaurant/tiki bar Donn the Beachcomber. The original recipe was kept a secret for years. Other restaurants copied it, and there are many poor imitations out there. (A true Zombie is not fruit punch and rum!)
It's sweet, tart, and deliciously cool in a tall glass (extra points for drinking it out of a Zombie Tiki Mug)
Naturally this is the perfect drink for a Tiki Party but this drink is also perfect for a Halloween Party… instant Zombification!
Travelling in a fried out kombi;
On a hippie trail, head full of Zombie.
 Men At Work-Land Down Under
Zombie Cocktail History
Where Do Zombies Come From?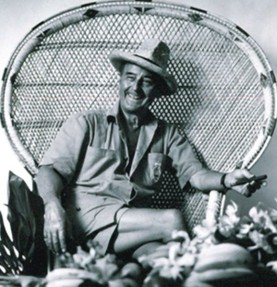 Legend has it that Ernest Raymond Beaumont-Gannt aka. Donn Beach created this amazing Rum drink at his restaurant Donn the Beachcomber back in the 1930's. It was meant to be a "hair of the dog" remedy for a hung over customer.
But it might have just made things worse…. no one cared….It was so delicious.
It soon made a permanent appearance on the menu. But there was a two drink limit.
The Zombie was a real skull slammer.
The recipe for the Original Zombie is shrouded in mystery. Donn was secretive to the point of obsession about his drink recipes. Bartenders had to keep little books with the recipes in code, and they were sworn to secrecy.
The Zombie was served at the 1939 New York World's Fair, and gained popularity FAST! Many bartenders at other Tiki Bars tried to imitate the Zombie, and just mixed up rum and fruit juices hoping for the best.
Jeff "the Beachbum" Berry is a Tiki Cocktail lover who spent years tracking down Bartender's secret notes and interpreting them. The Result? The Original Zombie Recipe above.
Now you can make one in your own home.
The 'Original' Zombie Recipe
by Jeff "Beachbum" Berry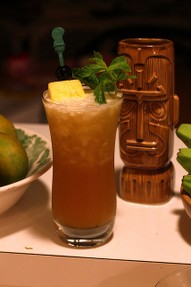 Jeff "Beachbum" Berry figured out Donn the Beachcomber's Original Zombie Recipe by cracking the code in an bartender's book. It took a lot of trial and error… but he got it right. Many will try to pass off something else as a Zombie, but once you've had this, you will never go back.
The recipe calls for some unusual ingredients like Cinnamon Syrup (basically Simple Syrup infused with Cinnamon) and Falernum (a ginger, clove and lime flavored syrup that may or may not contain Rum). You can find these in a well-stocked liquor store, or on Amazon. I also included links to recipes if you want to make them yourself.
If you want a REAL Zombie Cocktail.. Don't skip or take a shortcut.
Best Zombie Cocktail Recipe
3/4 cup Crushed Ice
1 1/2 oz. Aged Jamaican Rum
1 1/2 oz. Gold Puerto Rican Rum
1 oz 151 Demarara Rum
3/4 oz. Lime Juice
2 tsp. White Grapefruit Juice
1 tsp. Cinnamon Syrup*
1 tsp. Grenadine
1/2 oz. Falernum**
1/8 tsp Pernod
1 dash aromatic Bitters
Ice Cubes
Mint Sprig for Garnish
Instructions
Put all of the ingredient from crushed ice to Bitters in a blender. Blend until frothy … not slushy… about 5 seconds.
Pour over ice in a tall glass… garnish with mint.
Fee Brothers Falernum Cocktail Mixer: 32 oz

**What Is Falernum?
Clove and Spice Infused Rum
Falernum sounds like something you'd find in an anatomy textbook, not a bar…. but it's an essential ingredient for lots of Tiki Drinks. It is a syrup, originally made from Rum, infused with Almonds, Cloves and Citrus. You can find it in the adult beverages section… or make your own!
It is possible to buy a non-alcoholic version of Falernum…. (but why?)
 Disney Trader Sams Zombie Shrunken Head White Mug

 Sourpuss Aloha Zombie Tiki Mug

 Sourpuss May I Be Frank Tiki Mug

 Frankenstein Tiki Mug Frankie's Tiki Room Green Rockabilly Frankiestein