Oooohhhhhhh…  nothing screams TIKI like this Tiki Drink Bowl with Hula Girls on the side and FLAMES coming out of the middle! It's the perfect vessel for any drink containing rum and juice.
In the South Seas, sharing flaming tiki bowls is a sign of hospitality, and of community. And it's lots of fun. It's hard to be at a loss for conversation when you are sharing a bowl of drink (and oddly, the more you drink, the easier the conversation becomes…)
The Flaming Tiki bowl comes in two different sizes, 32 oz. (around 8 inches across) and 48 oz. (around 8 3/4 inches across, just deeper). Bigger might be better… if you do a lot of sharing (or you are REALLY THIRSTY). 
The Volcano in the center of the bowl can be filled with flammable alcohol, like 151 Rum, and lit up for a fantastic flame effect. (Be sure to tie up loose hair!) Imagine, drinking by the light of Tiki Torches and Volcano Flames! It's just like being on an imaginary tropical island.
Each bowl is hand painted, so there might be slight variations to the paint. But they all have those cute Hula Girls! 
To keep my Flaming Tiki bowls safe from chips, I hand wash it (the dishwasher is ok, but hand wash is better).
Mix up some Scorpions …. hand around a few long straws…. and it's a Party!
(by the way…. if you have kids, get another bowl that can just be filled with juice… they LOVE IT)
Volcano Center Drink Bowl
Big Volcano Ceramic Tiki Drink Bowl – 48 oz
Brigadier VF1 tiki mug/bowl.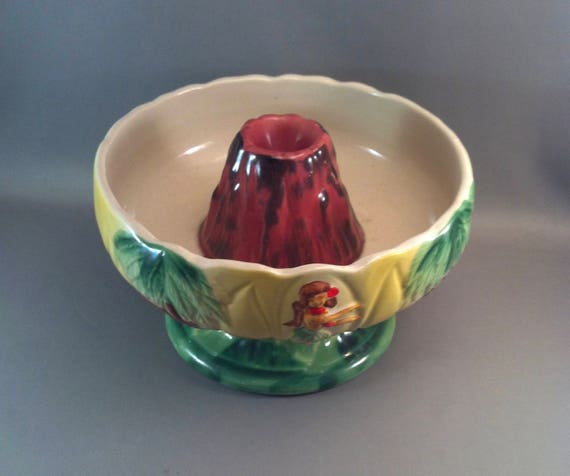 Vintage Orchids of Hawaii Volcano Bowl, Hula Volcano Bowl, Orchids of Hawaii R-94